Menemsha village and harbor is filled with reminders of the historic port's long fishing tradition.
A sculpture of a harpooner at the ready, stands in the dunes, a testimony to the Vineyard's sharp-eyed swordfish harpooners, who once sailed from the port in search of fish. Fishing shacks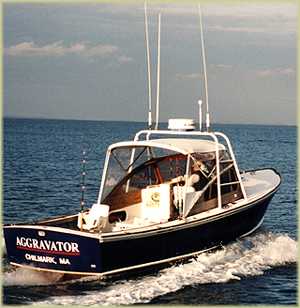 still line the dock, filled with the gear and memories of commercial fishermen.
Menemsha is now home port for some of the Island's best charter captains. Every afternoon and evening tourists are treated to the sight of the day's catch coming to the dock, and the happy smiles of successful fishermen.
Captain Alex Preston has spent many summers on the waters of Martha's Vineyard. His boat, "Aggravator," is a 29-foot Dyer. The Dyer bass boat, with it's characteristic stern rudder, is legendary for it's seaworthiness in the strong rips and currents of the Elizabeth Islands, where the big stripers roam.
Aggravator is equipped with full electronics, including radar, GPS, LORAN, and marine radio. It features an enclosed forward cabin and head and travels at approximately 16 knots.
Fishing equipment includes casting rods for hungry bluefish that will hit a popper on top, and trolling rods for big stripers in the deep. Fishermen are welcome to bring their own gear.
At the end of your trip Captain Preston will clean and fillet your catch so it can be brought home for dinner.